You choose where to hang your hard hat.
When you earn a living on the line, you deserve a fulfilling and rewarding career – not just a job. In this industry, the opportunities are vast, and we know you have a choice. You deserve a place to belong, and you'll find that at Sumter Utilities.
At Sumter Utilities, we're all about family.
We began as a family business, we treat you like family, and we value your families. It is our vision to be the leading electric infrastructure solutions provider in the Southeast, delivering  exceptional value to our customers, our employees, and their families. With that vision we are committed to investing in our people through:
Competitive Salary & Benefits
Medical, dental & vision insurance
Company paid life insurance
401K with a company match
Paid vacation and holidays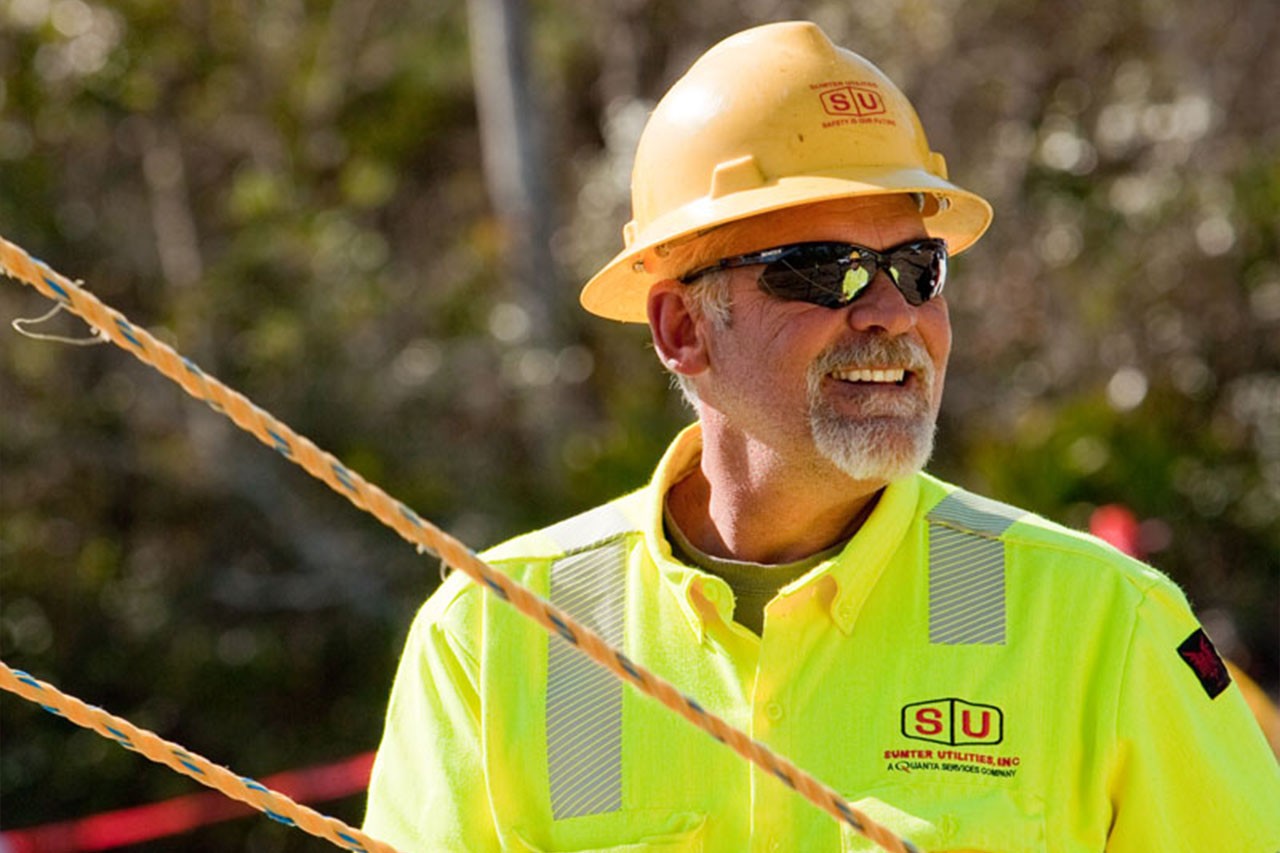 Rewarded tenure & advancement opportunities
Veterans employment incentives
Referral bonuses
Community engagement
On-site safety specialists
Week-long paid orientation at our headquarters in Sumter, South Carolina
Lineman apprenticeship program
Start your career at Sumter Utilities.
Explore our featured positions, then click to view more and apply.
Lineman (Energized)
Whether working Transmission or Distribution, Overhead or Underground, Sumter linemen are the pride of our business. There's a team attitude in the field, and at Sumter, being a lineman is an honorable career.
Now Hiring Linemen in:
Georgia
Alabama
Maryland
Florida
Virginia
North Carolina
South Carolina
Alabama
Entry Level (Non-Energized)
At Sumter, you can begin a pathway to a rewarding profession in electrical linework. Following 6 months of employment, you can also apply for our DOL Certified 4-year apprenticepship program.
Now hiring Groundmen and Equipment Operators in:
South Carolina
Maryland
Georgia
Alabama
North Carolina
Apprentice (Non-Energized)
Through enrollment in our DOL Certified Apprenticeship program, Sumter provides on-the-job training. Learn the ins and outs of linework under direct supervision by a qualified employee, and take the next steps to a successful career at Sumter Utilities.
Now hiring Apprentice-level C Class Linemen, Equipment Operators, and Groundmen in:
Field Leadership
The success of Sumter's projects is led by our Superintendents and General Foremen in the field. Through the supervision of our crews, our field leadership drives Sumter's goals forward, and serves as a steward of our esteemed safety culture.
Now hiring Superintendents and General Foremen in:
South Carolina
North Carolina
Georgia
Virginia
Boring / Drilling
Underground utility work requires efficient directional drilling. The role of a Directional Boring Operator is critical to Sumter's success in underground work.
Now hiring for a Directional Boring Operator in:
We have the best people in the Southeast.
See for yourself and begin a career you can take pride in.